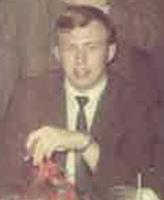 Dave Huddleston 1949-1995
Part of one of the many sets of brothers to have been a Stellar Brother, Dave Huddleston was the older brother of Dale Huddleston (Pledge Year 1970) and another (non-Stellar) brother Gary. Dave was a Stellar Brother for four years, from the Fall of 1967 when he pledged until graduation in May 1971 with a degree in Industrial Management.
Born March 22, 1949 in Rushville, Indiana, Dave was only 46 when he died of cancer in 1995.
As you can see in these pictures from Stellar Brothers scrap books, Dave had a special aura around him and was a remarkable person.