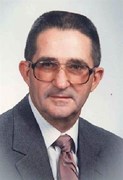 Larry Penrod, Born July 1, 1939. Died Feb. 8, 2018. Stellar Brothers member 1957-1960.

MILLERSBURG - Larry L. Penrod, age 78, of Millersburg, died, after a long illness, at 12:24 pm, Thursday, February 8, 2018 at Orchard Pointe, Kendallville, where he had been a resident for one year.

He was born July 1, 1939 in Mishawaka to Noel and Ireta ( Brenneman) Penrod.

Larry grew up in Madison Township and lived his lifetime in this area. He was a 1957 graduate of Madison Township High School and received his bachelors and masters degrees in Agriculture from Purdue University. He was a member of Stellar Brothers Cooperative from 1957 to 1960. On August 13, 1960, he married Monta Lou Johnson at Coalbush United Methodist Church in Mishawaka.

Mr. Penrod taught at Millersburg High School for 5 years. He then went to work at Federal Land Bank for many years, and then Salem, Turstcorp, and LakeCity Bank, where he worked until his retirement. After retirement, he worked in his Lawn Care business. He also was a lifetime farmer and had been a 4-H Lamb Club leader.

Larry enjoyed traveling - all kinds of travel, from camping to cruises - with his family. He threw the best barn parties for his family and friends on all occasions and always enjoyed being the greeter.

Larry was a member and had been very active in St. Marks United Methodist Church in Goshen. He attended People's Bible Church in Benton.

Mr. Penrod is survived by his wife, Monta Penrod; daughters, Karen (Michael) Gardner of Germantown, TN and Pamela Penrod of Millersburg; grandchildren, Brooke (Simon) Baumgartner, William Penrod, and Nicholas Penrod; great-granddaughter, Veronica Maxine Baumgartner; and sister, Nancy (James) Mason of Wakarusa.

Family and friends may call from 2-8, Monday, February 12, 2018 at Thompson-Lengacher & Yoder Funeral Home, Nappanee and for 1 hour prior to the Funeral Service, which will be at 10:30 am, Tuesday, February 13 at the funeral home. Pastor John Randolph, Peoples Bible Church will officiate, and burial will be in Bremen Cemetery.

Memorial contributions may be given to Alzheimers Foundation for Frontotemporal Dementia Research.
Published in South Bend Tribune on Feb. 10, 2018
http://www.legacy.com/obituaries/southbendtribune/obituary.aspx?n=larry-l-penrod&pid=188134384&fhid=8874